The following steps will import your currently saved Address Book into the new CCCINTERNET WebMail. Prior to completing these steps, you should have followed the steps to Save Your Address Book. If not, complete those steps before continuing.
1. In the new CCCINTERNET WEbMail, click Tools + Import/Export from the menu.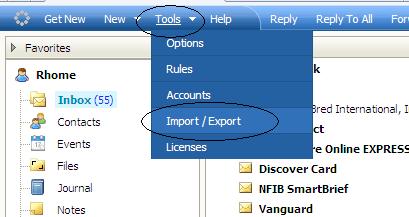 2. Click the Upload button.

3. The Select File window will appear. Your previously saved Address Book should be in the My Documents folder. Make sure the top field shows 'My Documents'. Select your Address Book file from your list of files shown. An example of the file name is : Addressbook_06282010.csv. Click on it to select it, then click Open.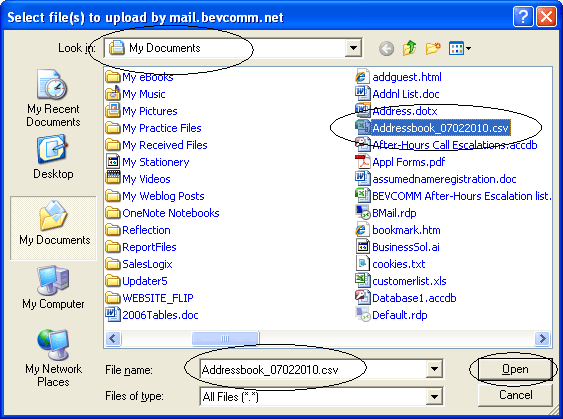 4. In the Import window, make sure the second button shows Contacts, then click Import.

5. This is the tricky part. You'll need to match the columns you had in your previous Address Book with the columns shown. Look in the first column. It will probably show your list of names. Click on the drop-down field above the first column and choose 'Contact Name'. Then go to the next column. If none of your information is shown in the column, go to the next column. Match the information in the column with the correct column header by clicking the drop-down field in each column and selecting the·column name that best matches the information in the column.·Note that you will need to scroll to the right as there are many columns to match-up.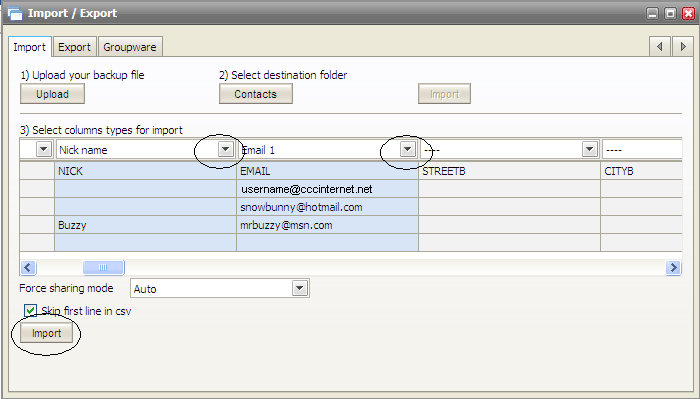 6. Here's another screen shot to show that as you go through each column, some will contain information from your existing Address Book, while others will not. Match the columns with information. Once you have reviewed all the columns, click on Import. Then WAIT for it to complete!!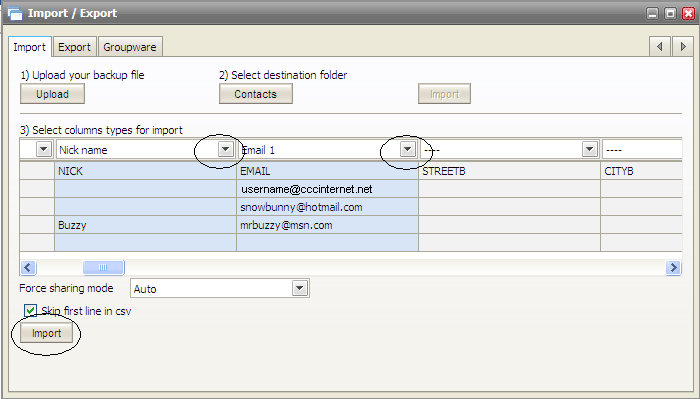 7. After several seconds or minutes, a pop-up window will let you know the import was successful.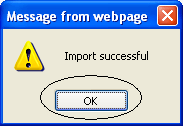 8. Click the Red X to close the import window and open your Address Book to view your imported addresses.